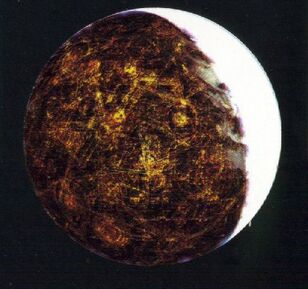 World: Nestorium
Location: Core Worlds
Type: Forge World
Tithe: [Industria] Equipment, Spacecraft, War machines, Techpriest personnel.
Population: 9 billion [9 000 000 000]
Government: Nestorian Machine Council. Members are chosen through a series of various tests and tasks that require inhuman logic and knowledge. The current head of the Nestorian machine council is Fabricator General Regon (RHO-344-093).
DescriptionEdit
Nestorium dates back to the Dark Age of Technology, where it was first claimed and developed by those who would become the Adeptus Mechanicus. Since its inception Sector Deus has supplied its best technologies from the forges of Nestorium, and it has remained a bulwark of power throughout the several losses of Imperial control that have plagued the sector.
In M41 Nestorium is a big grey world made of dust, black sand and colossal man-made structures. There is no life on its natural surface, and if there ever was something that could be called an ecosystem it is long extinct due to extensive pollution. Over three quarters of the planet is covered in concrete and metal, and high ranking Magi and their laboratories occupy the tallest spires, poring over ancient schematics and directing their scores of assistants in the unending quest for knowledge. Down below in the darkness of the smog enormous manufactora operate day and night, and are (despite the high level of automation) required to be manned by billions of adepts and their underlings who are all worshippers of the Omnissiah since birth.
In orbit above the forgeworld are mighty conglomerations of interlinked shipyards and orbital stations from which over a dozen capital ships are being constructed at any one time, and scores more escort-class vessels.
From these innumerable and colossal production lines are is all manner of technology produced. Everything from combat knives to baneblades for the Imperial Guard; macrocannon shells to battlecruisers for the Imperial Navy; and other combat-related items for every faction imaginable. As a result of this roughly 48% of all military technology in Sector Deus is made on or over Nestorium. This is also the birthplace of the Nestorian Learners faction, which has spread to other forgeworlds in the Sector and even further beyond.
Technology: [VII - Perfect] Nestorium is the leading Forge World in the whole Sector.
Military: Protected by a vast number of Skitarii Cohorts. Home to titan legions Honoris, Nomern Emperoris and Lux Mechanica. Protected in orbit by an extensive array of defensive guns and stations, as well as the mysterious but devastating warships of the Adeptus Mechanicus.
Strategic importance: [Maxima] Nestorium is very important to the Imperium because it supplies most of Sector Deus with technology. Losing such a planet would be a severe blow to all the worlds that depend on it.
Loyalty: [Adeptus Mechanicus 77%] Nestorium answers only to Mars, but they always try to cooperate with the wider Imperium.
Notable Locations
Edit
Nestorian Shipyards
Edit
Nestorium is home to the largest shipyards in Sector Deus, and it produces a staggering number of voidships. Though even the smallest transports ships are a multi-year undertaking, Nestorium has so many drydocks and ongoing construction that a fresh hull sets off from Nestorium almost every week. Whilst the majority of these ships are indeed transports - both standard and heavy - for the vast Merchant Fleet, or ships for their own Explorator Fleets, Nestorium is also the primary producer of Naval warships in the Sector. The current overseer of the Nestorian Shipyards is ​Archmagos Aphrael Maw (AMA-883-212)​, an extremely experienced and skilled shipbuilder. The construction of each capital ship is overseen by a Magos Prime while all smaller ships are overseen by a Magos, and each of these will have vast numbers of Techpriests, Enginseers and servitors under their command.
At any given time Nestorium is working on dozens of escort warships ranging from simple Cobra-class Destroyers for the Imperial Navy to extremely advanced Gladius-class Frigates for the Ghosts of Retribution. Nestorium is also home to several capital ship class drydocks, and the most significant ships that currently occupy these drydocks are listed here:
Apocalypse-class Battleship Pilum Infernum - The 9km keel of this colossal warship was laid down in 850.M40 in Nestorium's first (and only) battleship grade drydock, and her completion is expected around 500.M41. Her hull, essential components, prow nova cannon and dorsal weapons batteries are fully installed and ready for service, but the incredibly arduous task of installing and cabling the massive broadsides of Godsbane Lances is still in-progress.
Overlord-class Battlecruiser Conqueror - This Battlecruiser was laid down in 320.M41 and completion is expected around 370.M41.
​Mechanicus Armageddon-class Battlecruiser ​Blessed Gear​ - Laid down in 330.M41 for Nestorium's own techno-fleet with completion expected in 365.M41 
Gothic-class Cruiser Dawnbringer - Laid down in 348.M41, with completion expected in 368.M41.
Lunar-class Cruiser Ferox Ignis - Laid down in 350.M41 with completion expected in 360.M41.
Nestorian Techno-Fleet
Edit
The Adeptus Mechanicus has an ancient right to control their own fleet. Little is known about the expeditionary fleet operated by the Nestorium Mechanicum save that like all Mechanicus fleets it contains warships that use ancient technologies that make them superior to their Imperial equivalents.
Known shipsEdit
Ark Mechanicus Technohammer - The Ark Mechanici are a broad class of unique, battleship-sized vessels created by the Adeptus Mechanicus. The Technohammer is a fairly typical example given how esoteric Ark Mechanici can become, but with the rare, advanced technology and powerful weapons installed in its ancient hull this battleship is one of the mightiest vessels in the Sector. Commanded by Captain Hannah Dossar who is not an official member of the mechanicus priesthood but rather a dedicated naval tactician - though she worships the Omnissiah as all Nestorians do.
​Mechanicus Eradicator-class Battlecruiser​ ​Eradicator - A unique pattern of vessel currently being tested by Nestorium in its own techno-fleet. The Eradicator-class is a dedicated carrier vessel with launch bays taking up the entirety of its broadsides, while a nova cannon in the prow and dorsal lances provide long range supporting fire
Mechanicus Tyrant-class Cruiser Burning Glory - Originally part of the 4th Ecclesiastic Fleet that attacked the Ghosts of Retribution in the Betrayal at Varda. The Chapter's Battle Barge the Aspera Dominus hulked the Burning Glory with a single mighty salvo, and the hulk was subsequently sold to Nestorium who repaired it, upgraded it, and pressed it into their technofleet.
​Mechanicus Aggressor-class Monitor-Cruiser​ ​Omnissiah's Reach - Another Nestorium pattern, the Aggressor-class Monitor-Cruiser is vessel designed for pursuing & destroying vessels that would normally be too swift for the Mechanicus fleet to run down and reliably defeat. With a high speed and powerful armament of prow lances & broadside weapons batteries the Aggressor-class is extremely dangerous to any would-be raiders as it chases their stern, but its diminished resilience means it can suffer in true fleet battles. Whilst it is an excellent pirate/raider hunter the Aggressor-class was in fact developed for the purpose of hunting down and disabling 'vessels of research interest' with its dorsal Disruption Macros. Nestorium is known to operate several Aggressor-class Monitor-Cruisers but the ​Omnissiah's Reach​ is the most well known, for leaping to the defence of a merchant convoy when they came under attack by dark eldar raiders in 335.M41. Whilst it is unlikely the AdMech commanders cared much about the convoy itself, they nonetheless saved it when they disabled the dark eldar's ship.
​Other notable planets in the system
Edit
World: ​Argentus
Type: ​Burning World
Tithe: [Nix]
Population: ​Approximately 500,000 caretaker servitors.
Government: ​N/A
Description: This tiny molten world near the system's star is used as the Nestorium system's 'backup'. Deep underground vaults contain copies of the Forge System's STCs and patterns, and shielded fortresses stand amongst the lava flows and barren rock of the fireswept world. In the event of a catastrophic invasion that even Nestorium cannot resist the surviving priesthood will retreat here, where the hellish environment makes attack incredibly dangerous and frequent solar flares risk destroying ships in orbit.
Technology: [VII – Perfect] Argentus' archives and fortresses use the best technologies, including extensive void shielding and anti-orbital guns.
Military: Argentus only has a few thousand Skitarii guards posted at any given time, but its orbit is off-limits to anyone not of the Adeptus Mechanicus and this is enforced by the Nestorian Techno-fleet.
Strategic importance: [Maxima] Argentus represents Nestorium's only future should the unthinkable occur.
Loyalty: [Nestorium 100%]
Nestoria MagnaEdit
World: ​Nestoria Magna
Type: ​Gas Giant
Tithe: [Nix]
Population: ​N/A
Government: ​N/A
Description: A large gas giant, Nestoria Magna has long been used as a source of gas fuels for the Forge system. A huge number of Goliath-class vessels swarm around the planet scooping up gasses for all kinds of uses including stellar ore refinement and plasma generator fuel.
Technology: N/A
Military: N/A
Strategic importance: [Media] The source of fuels and gasses helps Nestorium but such things can be found elsewhere if necessary.
Loyalty: ​N/A
World: ​Vakmanis
Type: ​Temperate World
Tithe: [Nix]
Population: ​25 million [25 000 000]
Government: ​A representative of the Fabricator General holds power here. This is currently ​Archmagos Adrien Degrast (ADD-095-270)​.
Description: Vakmanis is essentially a quarrantine world where Nestorium develops and produces its most dangerous weapons, things that are too risky to have on the Forge World itself. Things like biological weapons, rad weapons, vortex weapons and exterminatus ordnance are produced here, and the basic ecosystem is often used as a testing ground for their effects.
Technology:​ [VII - Perfect] Only a fool would toy with such weapons without the best technology available.
Military: Vakmanis and its incredibly dangerous products are kept heavily guarded with orbital defence stations, system monitors and legions of Skitarii.
Strategic importance: [Maxima] While the world itself holds little value there is enough destructive hardware on this world to destroy the entire Sector and more. Due to this the entire planet is rigged to self-destruct in the event of a successful invasion, so these weapons cannot fall into the hands of any enemies.
Loyalty: ​[Nestorium 100%]
Ad blocker interference detected!
Wikia is a free-to-use site that makes money from advertising. We have a modified experience for viewers using ad blockers

Wikia is not accessible if you've made further modifications. Remove the custom ad blocker rule(s) and the page will load as expected.